We are going through a very challenging period due to the immense risk of the Covid pandemic. As university students, most of our exams are on hold, most of the in-class tests are open book, for which I thank the pandemic. (I am sorry for being selfish, but it is more like salvation for an exhausted student. It is just "a college student stuff". I hope you understand) Zoom has literally become our classroom.
So what do you think about online classes? Do you hate it? Or is it an ideal platform to sleep, go online, and scroll through the daily dose of memes, eat, get your attendance marked free just by showing that you are in the class? (It is more like a 6 in one package, isn't it?)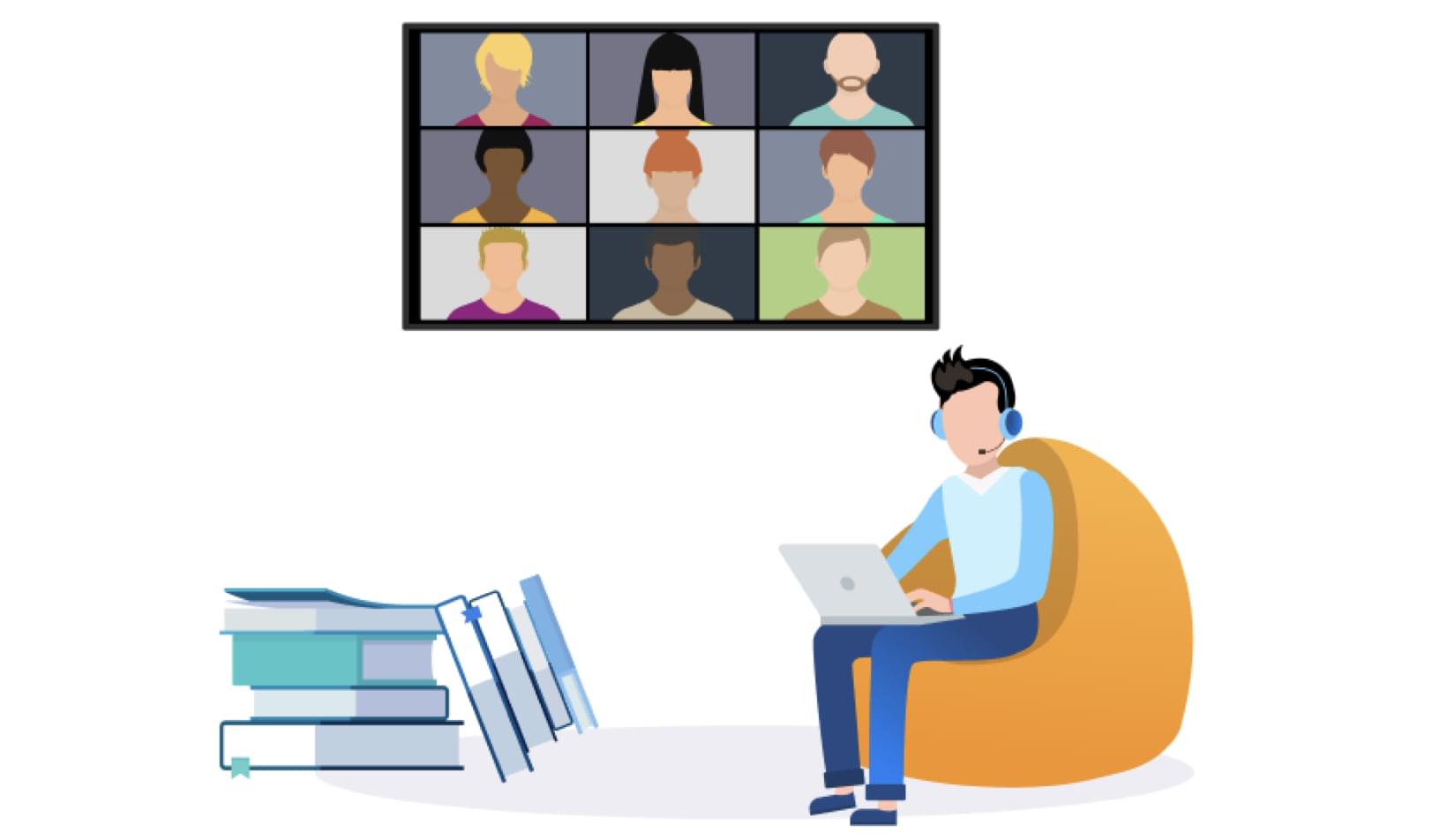 We get another benefit added where unlike learning with our butts on the chair trying to concentrate while dosing off, we can access the recorded sessions which are uploaded in the LMS ( Learning management system)anytime! So, is Zoom that much of a disappointment that makes you frustrated whenever your lecturer sends you the link to join the online class? True that our friends are not around and the real experience of learning real-time in a lecture hall does not exist in Zoom, but don't you think this platform is beneficial in terms of the advantages available at your hand? Let's take some time to reflect on how we can productively use Zoom for virtual learning. Remember, I am not addressing a set of perfect students who can grasp every single factor throughout the 2 hours, I am addressing the audience that does all sorts of other work like me for 1 and a half hours and "try" to listen to the lecture while staying focused in the first half hour and accesses the recorded lecture later…
Since the beginning of my degree, as a first-year student, I have been learning via Zoom. As zoom experts, I know that it is not really necessary to define what is "Zoom". But it is a video collaboration tool that provides a click-and-connect conferencing solution, which makes it such a great classroom tool. Here are some more additional benefits other than the LMS integration.
Platform independent: participants can join the session from any device—no VPN is needed.
Scalable: one-on-one meetings, up to a class of 500 students, or a staff meeting up to 300.
Easy and intuitive: one-click connection for easy video and audio, and recording.
Real-time interaction: chats, polls, breakout rooms, content sharing, white boarding, annotations.
Closed captioning and keyboard shortcuts: ensures accessibility for all learners.
So, as "typical students who study in the last moment" how do we encompass it, and use Zoom more fruitfully and productively? I researched for some expert answers that may help each one of you.
1. Find a daily schedule and a place that works best for you
As undergraduates, it is obvious that our daily job at this time is not only listening to Zoom sessions in terms of our studies. We must build a daily schedule around accomplishing tasks – not just when the next Zoom lecture is happening. We need to take some time to reflect on "our ideal universe" for finishing our work, and assignments. We essentially need to reflect on how we learn, our study patterns, and how our usual study patterns should be adapted according to the virtual classroom.
For instance, question yourself about what your favorite time is, to listen to a lecture. Remember, like said before you do not have to be in complete focus when the lecture is going on, you are given the option of accessing the lecture recordings later on. Therefore, ask yourself "When are you most focused and most engaged?
Once you create a weekly schedule, make sure to stick with it because Zoom University can otherwise feel all-encompassing. Just like "an apple a day may keep the doctor away", a structured day will help you feel "more in control over your work".
After you have settled "when" you work, move onto "where" you work. Find a room, a corner of a room, a desk, or another dedicated area where you only study rather than your cozy bed because you might dose off. It can help have an area separate from other slightly less productive moments on the internet. Spend the time to create a "distraction-free" workspace. Hide your phone!
2. Zooming can get exhausting. Limit your screen time when possible.
Zoom fatigue is real. Hours spent on online conferences can feel draining, and remote learning often requires a steady slog of lectures, study sessions, and working groups. The feeling of being 'on stage' is really draining. It is really hard to remain watchful for a two-hour zoom lecture, even if the instructor is brilliant. Your lecturers know this, so they might prepare classes to be more interactive – with breakout rooms and voting.
Do what works best for you to manage screen fatigue. Everyone has to lookout for their own well-being right now. We need to take breaks, scroll past some memes, and get away from the virtual classrooms a little bit. I am sure that you all have your unique strategies anyway.
Outside the class, readings and research often add hours of screen time to your day. Indeed there are differences between reading on screen and paper. Instead of endlessly scrolling through a PDF, it will be more helpful to have downloaded a few online tools such as Hypothesis, PowerNotes, or Scrible, to help describe and understand the text on the screen. Let's think as if we are having a real-time conversation between you and the text when reading the screen. But it is necessary to be mindful of why you are reading and what you are trying to grasp from the text.
All in all, Zoom does not allow the same happenstance conversations while walking around the university. Many students complain that they feel disconnected from the campus community. You may not run into a professor in the hallway or see your favorite lecturer or your beautiful crush who is a senior walking out from the corridor with her friends. But students and the lecturers must create opportunities for casual social interactions on and off the subject.
It is indeed a hard time as all of us are going through, but it is obvious that things need to keep us going as we need to finally graduate and move on with the future that awaits us. It is indeed disappointing that we cannot see our colleagues or our crush every day like at the university. Zoom, for sure feels like it is a perfect shelter to sleep and spend your own time without your lecturers catching you red-handed because your webcam is off.
Rather than complaining all the time and being pessimistic over this virtual classroom, shall we make use of the given resources to our maximum and keep it going with a happy face? Because there are many benefits you gain via Zoom learning. Remember, the best possibility of it, you may miss your lecture because you did not wake up on time or was too sleepy to wake up after watching movies till late at night, you still can go to CAL and access the recorded lecture and study and make notes even on the next day. Isn't that a great option? Well, it is my favorite option other than eating and sleeping options. Let us be creative zoomers in Zoom University. Understandably, it is unfair that we have to study amidst a turmoil and commotion but we cannot deviate and escape from studies either. So let us manage time and work accordingly, taking maximum use in being productive while at the same time doing your most favorite things at home.
Stay safe and study well!
Written by : Rtr.Nirmani Jayawardena
Professional Development Avenue